Links about Iceland
The Icelandic Mountain Bike Club is publishes the best web site on the WWW in English to inform cyclists about cycling in Iceland. There is also a useful message board.
On the following links you can read about cyclists experiences of travelling in Iceland: ATRamsey, Trento Bike Pages, MountainBikingAdvetures, Cycling in Iceland , Iceland Adventure and Iceland on MTB
The Icelandic Tourist Board has a lot of information that you should read before you come to Iceland for exemple: Practical Information, useful links and travel facts
You can get lots of information at Iceland Complete, Discovery Iceland, Go Iceland, Iceland Naturally, Travelnet, Travel library, Randburg and Isafold
At Rough Guides Travel can you find more informations about Iceland
Accommodation can be found in Hostels , Farmholidays , Edda Hotels and Fosshotels. Campsites can be found in almost every town all over the country. You can ask for a catalog for accommodation in Iceland from Áning
Public transportation can be found at BSI for busses and airplane Islandsflug, Flugfélag Íslands and Icelandair
If you are visiting Iceland by ship, airplane or UFO you should look at these websites.
If you're interested in organized cycle tours then there is only one cycling tour operator in Iceland called Bluebiking. Contact Halldor on Tel/Fax +354 565 2089.
You can rent a bike from Borgarhjól, Hverfisgötu 50, Reykjavík. Tel: + 354 5515653 fax: + 354 5515657.
Bikeshops can be found at. Örninn, Markið, Fjallahjólabúðin, Hvellur
If you would like to try some Icelandic products you can order it from the Icelandicstore.
You can order the best maps from Landmælingum Íslands, Mál og Menning and Randburg
You can get direct information about road conditions and the weather forecasts in Iceland at Vegagerð ríkissins
The weather forecast is available at Morgunblaðið newspaper and you can also find it at Veðurstofa Íslands and on the web thyr.is over Iceland and Europe
Live camera in Reykjavík and weather windows at Reykjavík, Ísafjörður, Akureyri, Egilstaðir, Höfn, Hvolsvöllur and over Europe or the world
Reykjavík was one of the "European City of Culture" for the year 2000. On the web site Djamm.is can you see the real culture in Reykjavík with lots of live camera
If you like to see some nice pictures of Iceland go to Íslandsvefurinn There is also lots og information. There are also more pictures at Landscapes of Iceland, Eye on Iceland, Íslenska ljósmyndastofan,Daniel Bergmann, Thorsten Henn, Íslandslag, Sigurgeir Jónasson, Pálmi Guðmundsson, Páll Stefánsson, Nökkvi Elíasson, Mats, Jóhannes Long, Haukur Snorrason, Dóri, Bragi Thor, Birktronics, Arctic Images, Sigursteinn Baldursson, ESO.org, Ed Jackson
If you are interested in Icelandic music then you must look at Dordingull , Bjork, Aurora
Save Icelandic nature and fight aginst environment terrorist. Please act before it is to late at: proaction.tripod.com and INCA
News from Iceland fom Iceland News.com, What else?
Cycle Iceland. A baptism of fire and Ice. A cycle trip where 56 people from Great Britain have been cycling for The National Deaf Childrens Society (pictures will be available soon).
Please send an e- mail to nature@islandia.is and tell the webmaster what information is missed on this website
If you need some information that you can not find in the links above, please send a e-mail to the webmaster at nature@islandia.is and let him know what you are looking for.
Have a nice trip


PS. just for fun, here is a joke...
Three guys and a lady were sitting at the bar talking about their
professions.
The first guy says "I'm a Y.U.P.P.I.E, you now....Young, Urban,
Professional, Peaceful, Intelligent, Ecologist"
The second guy says "I'm a D.I.N.K, you know....Double Income, No Kids."
The third guy says, "I'm a R.U.B., you know...Rich, Urban, Biker."
They turn to the woman and ask her, "What are you?"
She replies: "I'm a WIFE, you now.... Wash, Iron, Fuck, Etc."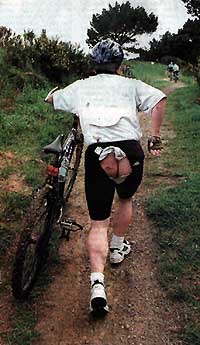 ... and another joke
Two engineering students were walking across campus when one said, "Where did you get such a great bike?"
The second engineer replied, "Well, I was walking along yesterday mindingmy own business when a beautiful woman rode up on this bike.
She threw the bike to the ground, took off all her clothes and said, "Take what you want."
The second engineer nodded approvingly, "Good choice; the clothes probably wouldn't have fitted."