Preparation for a cycling holiday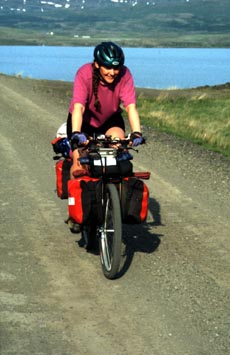 Nothing is as good as a date with mother nature wheeling along on a bike, silently and without polluting the environment. Unfortunately, there are far too few who trust themselves to travel by bike. Could it be an ignorance or inferiority complex when faced with nature, e.g. because of the great vastness of, and a fear of getting to grips with, nature in all her forms? People have become accustomed to flying around here there and everywhere in their fast cars and so their sense of distance has changed, and it seems that people have stopped noticing the smaller details in nature and have simply forgotten that these things even exist. Thus, the slower pace of travel by bike can lead to frustration or impatience unless we really get to grips. All those who have been to a gym or fitness centre know how hard those first exercises can be but after a few days this exercise becomes a necessity, even an addiction. The key to all this is the same as when a positive attitude needs to be built up, and difficulties thrown our way are confronted with open arms. When each particular problem is tackled and resolved you'll find that before you know it doors open to reveal a fantastic world which Nature truly is. Though a positive attitude will take you a long way, it certainly helps to be well prepared.
If a longer trip on a bike is being planned then it is essential that you get used to the bike that will be used on the trip by going on shorter, and longer weekend trips. It is best to use the your bike daily, at least one month before departure. It builds up the body and encourages people to enjoy nature in a different and more intimate way. The following are a few things that many think are complicated. It could, therefore, be ideal to pop along to the Icelandic Mountain Bike Club's weekly open evenings (www.this.is/hjol) to find out more. The club regularly holds seminars on keeping your bike in good working condition, and also preparation for bike trips. Everyone is welcome to attend and take part in these evenings as well as club trips. Requesting a certain seminar or talk is also possible.
Does the bike work?
It is no good being in good physical shape if the bike is falling apart. All bikes need going over, even new ones. This is not to say, though, that bikes complicated machines. On uncared for, and older bikes, nuts and bolts are often loose or too tight, and moving parts in need of lubrication. The components on these bikes are frequently made from metal that rusts, wears out or have stripped threads. Tools maybe aren't quite a good fit for the nuts and bolts which makes upkeep of the bike more difficult and time consuming.
On more expensive and newer bikes 1-3 allen keys is all that is needed to adjust the whole bike. Most of us should be able to check the following points ourselves: Are the front and rear mechs well adjusted and oiled? Check the high and low adjustment screws. Do the brake blocks/pads sit correctly? Are the brake and gear wires still in good nick and not rusty at all? Is there slack in the hubs or have they been tightened too much? The same needs to be checked for the cranks and headset. Are any of the spokes too slack or tightened too much? Are there any cracks, or bad signs of wearing in the rims or maybe out of true? Is the chain worn? If it needs replacing then the rear cassette (block) will probably need replacing. Experience shows that a new chain will jump on old chain rings when force is applied. Are the axles bent? If so, the fork ends will almost definitely need straightening. It is possible to get someone in the mountain bike clubhouse to check this. Bent axles and fork ends are the reason that axles break and therefore vitally important that they are as should be. You should note that workshops are overloaded with work in Spring and Summer and therefore much better to check as many as the above mentioned points at home with the added bonus of learning something at the same time. Get someone to check just those details which you really don't trust yourself to deal with. When the bike is ready, it is advisable to go on a short weekend trip with all your gear.
Racks and Trailers
Pannier racks need to be strong, especially if you venture away from asphalt. Those on their first trip often tend to be rather overloaded with gear and then there is a danger that something gives under the strain. All the welds need to be inspected carefully when buying a rack. It's good to have in mind that the more pipes that hold the frame together the stronger the frame will be. It is better to buy one made of aluminium or steel as opposed to titanium. Check the welds where the most stress is likely to occur, e.g. on the brackets or fixings where it attaches to the fork ends. If the rack is made of aluminium then it is a good idea to reinforce the welding. There is a firm in Kópavogur called Įltękni which will see to this. For those who demand the most exacting requirements, the best racks are made from light "cromolide" steel piping. Amongst others, quality racks can be found from Bruce Gordon Cycles and Tubus but unfortunately they aren't available here in Iceland. Icelandic-made front and back racks have been sold in most bike shops here for quite a few years and are well adapted to Icelandic conditions but unfortunately they don't fit all bikes. There aren't many options when choosing a front rack for a bike with suspension forks. This is a problem not just confined to Iceland and people have often made their own fixes to deal with the problem. There are German made rack from Faiv, riese&muller, Tubus and RST from China. Some of this racks are quite complicated which hasn't perhaps been pushed to theyr limits yet but an exciting prospect nonetheless. Other opsions is american made racks from Oldmanmountain. They make good lightweght front and rear racks for suspension bikes.
The screws that are used to attach the rack to the bike and on which all the weight rests should be made of hardened steel. They can be found in the shop G J Fossberg (black in colour). Care should be taken to use nylon insert lock nuts with each screw to stop it from rattling loose. On most bikes, you won't find these used on the drive side at the back. This is because this would interfere with the chain. Instead of using one of these nuts, a thread locking glue should be used (e.g. Loc Tite 222), which can also be found in G.J.Fossberg in Reykjavik. It is a good idea to have most screws take the same size allen key. It is better to have allen keys as opposed to an adjustable spanner.
Trailers such as the Bob Yak, Aevon and Extrawheel are not only an alternative to using pannier racks, but also the best and only option for those with dual suspension bikes. Also, they are preferred by tandem riders who like to move the luggage weight off the bike. A downside to having a trailer is that it can be a little more difficult controlling the bike on loose gravel and with a side wind.
Pannier bags
Having good bags makes a big difference. Avoid thin nylon bags. The range of bags available here in Iceland is pretty good. The best bags are made from !00% waterproof PVC material. The bags need to have a hard back to avoid the possibility of the bag falling in towards the wheel and catching in the spokes. Check the finishing of all the seams, catches and hook both on the outside and inside. If possible, make sure the bags will fit your rack by trying them out first. They mustn't be at all loose and check that your heels don't hit the bags when cycling. Don't force them on to the rack either. The German firm, Ortlieb, make very good quality bags solely from waterproof PVC material and all seams are high frequency welded giving good strength and waterproofness. These bags have proved themselves time and time again and what's more, it's a breeze to clean them! One downside of using this material is that it doesn't "breathe" and should water manage to find its way into the bag then all the contents of the bag will end up afloat.
The hooks on pannier bags need to be strong, adjustable and with a locking mechanism that secures it to the rack, even better if it's also possible to add hooks. This is especially good when aluminium racks are being used as it distributes the weight more evenly. There have been other bags available which have copied Ortlieb, such as bags from Vaude, Scott or connix. They have proved to be pretty good apart from the hooks which have been somewhat susceptible on occasions. Even though these bags are waterproof, it is still a good idea as well as cheap insurance, to pack everything in plastic bags. This will also protect things from getting damaged due to the vibrations. Luggage should never be carried on the back or attached in any way to us apart from perhaps sensitive equipment such as a camera etc. It is also inadvisable to load all the luggage on the back of the bike because control of the bike is more easily lost on loose gravel surface as well as going up steep inclines. The rule of thumb say that distribution of luggage on your bike should be evenly (approx.) divided between front and back. Don't be surprised when you start cycling with all your luggage on the bike. You'll get used to the feeling after about two days. If your bike is a rigid bike then having luggage on the bike can actually soften up the ride so it can actually be pleasant riding a fully laden bike.
Apparel
The right sort of clothing for cyclists is important and it doesn't necessarily follow that clothing made in Italy is the best for Icelandic conditions. Cycling shops here in Iceland sell reasonable clothing, however, our outdoor shops have the best selection of base layer clothing. It is essential to have a woollen base layer and wear woollen socks. If "Lycra" cycling shorts with a chamois insert or liner are to be worn then it best to wear these next to the skin without any underwear. At all costs avoid cotton clothing as it takes a long time to dry and could therefore cause hypothermia. Better would be to use e.g. clothing made from "polarsystem", "fleece", "lycra", "transtex", "Tryflo", and wool. The best base layer clothing and indeed all clothing for cycling need to be fast-drying. In other words, the best clothes are ones that you can more or less put on straight after being washed and wrung out. Clothing needs to "breathe" as well as being wind- and waterproof such as "Gore-tex" and related materials. A good design makes a huge difference. Being able to open "air-flow flaps" on outer garments enables the body to stay cool and provides an exit for sweat. Usually it is enough that garments are just wind- and waterproof on the front. It is also wise to have a hat, gloves and always wear a helmet.
Cycling-specific shoes can be found in the above mentioned shops although hiking boots with a stiff sole can be of more use as a lot of walking is often done on cycling trips. The pros of cycling-specific shoes are that they have stiff soles, the option to fit cleats for use with SPD pedals, have a cut out for the Achilles tendon, are very light and often "breathe" better than hiking shoes or boots. The pros of hiking boots are that they are warm, some are waterproof, and usually last much longer. There is no need to carry wellington boots as they are heavy and bulky. In place of them, a type of gaiter can be used which shield the leg and front of the shoe. They have been seen in shops here although the selection isn't great. They could also be made from thin PVC material which can be bought in the shop Seglageršin Ęgir. They should reach from under and over the toes and up the shin almost to the knee. They are fastened around the leg at the top and by the Achilles tendon with velcro and elasticated bands. These gaiters are quite adequate for most rainy days. Waterproof overshoes in some shops. It is possible to use surfboard shoes or kayak shoes made from "Neoprone" material to ford rivers to combat the effects of cold water and stony riverbeds. Old trainers (sneakers) could also be used.
Maintenance
Although the bicycle isn't the most sophisticated vehicle it can "breakdown". It is, though, very often possible to go a long way without having to do repairs especially in recent times where the quality of components has improved a lot. If it's a good bike, there will be fewer repairs to deal with and all maintenance will be much easier. With the correct approach, the need for repairs can be virtually eliminated. If the bike's condition is monitored on a daily basis or at least as soon as something unusual attracts our attention, we need never be caught out. Those things most likely to go wrong or break on cycle trips are the following : Headset bearings loosen, tyres rip and inner tubes puncture, pannier racks break and spokes break, as well as the chain, gear- and brake wire outers. If the bike is looked over daily then the chances of having to deal with these things on a trip are kept to a minimum. It can be felt, as well as heard when bearings loosen and then it is important to adjust them immediately! A common "ailment" is that a brake pad rubs on the tyre and eventually it rips.
Don't cycle through rivers, rather carry the bike over. Cycling off-road requires using wide rims at least 25mm wide. These reduce the likelihood that the rim edges cut into the tyre's side wall. Ceramic coated rims such as ones from Mavic prolong the rim's life by a few years, as well as dramatically reducing the rate at which brake pads wear down. It is good for spokes to be of the 2mm rust-free variety from known manufacturers such as Wheelsmith, DT, Hoshi, or Union/Marwi. New tyres should be used when starting off on a trip. There are a lot of tyres on the market which aren't suitable for long journeys as they don't last. They are made out of foamy rubber with competition riding in mind. It's better to use tyres with a big tread and wide knobbly contact surface if gravel roads are to be cycled. Wide smooth tyres (slicks) are not a good idea. The contact area is then extremely large on asphalt which returns a greater resistance to the rider, the bike will slip and slide on loose gravel and in rain they will suck more rain up off the road and on to you.
Tools are a compulsory item on cycling trips. These, include pump, Victorinox or Leatherman pocket knife which has scissors, and a phillips screwdriver, Tyre levers, chain splitter, 8mm spanner and sometimes 9mm and 10mm for cheaper older bikes, allen keys which fit all screws on your bike and the right size spoke key. Mini, all-in-one tools such as CoolTool and Topeak don't have tools which are so easy to work with but are rather to have in an emergency. Chain lubricant, e.g. Finish line , and also an old rag for cleaning the chain. A needle and thread shouldn't be left behind. Could help with old bags or tent. Spares need to be carried with you as there are very few places that these can be got having left Reyjavķk. Patches, inner tube, gear- and brake wire, chain links, 2-4 brake pads, and 4 spokes with nipples. The type of trip and length should help you decide if a spare tyre should be taken. In this case, tyres with a "kevlar" bead are handy as they can be folded up and put in a bag. Mudguards can be vital in rainy periods or well travelled gravel roads. Mudguards are not a good idea though, if you are cycling in rough terrain because if large stones get stuck in the tyre there is a danger that they could break the mudguard and even cause an accident. Mudguards don't do an awful lot of good unless it is lengthened so it reaches well down to the ground. It is also not much fun to listen to stones bounce their way round between the tyre and guard for hours at a time as well as the fact they catch the wind.
Camp Equipment
Most people have camp equipment which can be used on bike trips. The target is, though, to get away with the smallest and lightest possible. Some people find a fur lined jumpsuit or snowsuit indispensable but if light travel is the orderof the day then this will have to stay at home.
The tent needs to be small, compact, and be waterproof. It can be a big plus to have a reasonable vestibule area where, in a bad weather, wet bags can be kept and so avoiding taking wet things into the inner tent. Also, (though we don't recommend it) it's possible to cook in the vestibule area in bad weather.
The sleeping bag doesn't have to be over thick. It should be as thin as you con get away with comfortably. A sleeping bag about 1 kg in weight made for 0 til -5°C should be good enough for most days in the Summer. On those few days that the temperature might dip below "shivering" point, the woollens should be kept handy as well as your hat. These clothes will be in your luggage anyway. A hat does more good than many realise. A hat that reaches down over the ears and cuts out the wind's constant hiss can help an awful lot in a headwind because the noise alone is enough to wear anyone down. It can also help to sleep with your hat on when it is particularly cold.
No problem for families
If the family as a whole is thinking about travelling by bike then there are various options to consider. All that's needed is the will and boldness to wrestle free from the clutches of habit. If a long camping holiday by bike sounds a bit daunting then there are many sorts of places to stay all over the country.
It is possibly to get trailers which, in most cases, have room for two children and luggage. These trailers have been available abroad for a decade and their popularity has risen due to the safety and different possibilities. Here in Iceland can be found trailers from Trek, eggero and Winther. They have roll bars, safety belts and are brightly coloured to heighten safety. Trailers from Trek are simple and cheap. Winther trailers incorporate suspension and better frame. The Leggero trailers can be adapted to a very useful trailer for luggage. It is not advisable to put all your luggage in the trailer as this can impede good control of the bike. A strong headwind can really emphasise it's presence when towing a trailer, and this is probably the trailers biggest downside.
When a child has outgrown the trailer it is possible to buy "trailer-cycles" which are "half-cycles" which are attached to the parent's bike. This enables the child to cycle with his/her parents until the child possesses a bike of it's own. There are examples here in Iceland where people have sold their car having purchased a trailer-cycle. There are many pros to this, financially and healthwise not only for the parents but the children as well.
Beginners, don't despair!
Having read all this you might think that travelling by bike are just for the rich and technofreaks, but you couldn't be more wrong. Good gear for cycling costs just a fraction of the yearly expense it takes to run a car. There is no need to despair if finances don't allow the purchase of a good bike or gear. Most people start out on the cheapest stuff and get a long way with that. You should also check to see what's possible to use that's already in the home. It's also ideal to travel with others and pool resources, e.g. tent, and plastic bags can always be used in place of waterproof bags - this is always a cheaper option.
To re-iterate what has been said earlier, the Icelandic Mountainbike Club has a programme of shorter day rides and weekend trips where everybody is welcome. On these trips, a lot can be learnt from more experienced cyclists. For those who would rather go on their own, one idea is a weekend trip to Nesjavöllur. It is a nice distance from Reykjavķk and everyone should be able to make it there without much trouble. Nesjavallavegur, the road to Nesjavöllur doesn't have an awful lot of traffic either. A weekend camping trip to Žingvöllur is also a good way to practice for a longer trip.
If more information is required, there is plenty on Sheldon Brown's website. Here you can find everything to do with cycling.
Magnśs Bergsson (Icelandic verson) translated by Darren Mikaelsson